Jessi Rock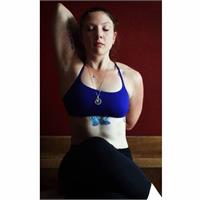 Hi! My name is Jessi and to me yoga has been a life saver. Literally. My journey into yoga started just as I was beginning treatment for my own mental health issues. I was afraid to know my true self, let alone accept that I had something innately wrong with my brain chemistry. But yoga taught me that true love with the self begins with just being able to follow the breath. It taught me to find calm in the whirlwind of thoughts. The Yoga Shelter is a place where I could go and feel welcomed no matter what kind of day I was having or where my mind was. It was, and is, a sanctuary. I am excited to be able to share my experiences and my journey with all who walk through the door and help facilitate their own journey to the self. The Shelter truly is a place where you can come as you are. I hope to see you in class. Namaste.
Jessi Rock instructs the following:



Our slow-burn hatha style is a fully guided foundation-building slow grounded flow.Most forms of yoga in the West can be classified as Hatha Yoga. Hatha simply refers to the practice of physical yoga postures, meaning your Ashtanga, vinyasa, Iyengar and Power Yoga classes are all Hatha Yoga. Focused on going deeper into the breath, you are encouraged to keep your eyes closed on this inward journey, enhancing the ability to pay attention to feelings, and relax into your body even in periods of discomfort. Working to build endurance, we explore the balance of effort and ease using slower, cumulatively deeper pose sequences with longer holds designed to engage and strengthen not only the major muscle groups but to functionally integrate the entire body. In this slower yet challenging practice, within the boundaries and framework of personal individual expression, "everybody" is presented the opportunity to articulate both breath and posture. A longer Savasana rests and restores body and the mind.




Our signature "power" yoga style is a fusion of Strong and Steady, ending with a little Still. By blending the detoxifying qualities of a vinyasa with the intensity of a slow burn we create an invigorating full-body flow where everybody can explore postures and principles while increasing strength and stamina. Start burning away toxins by generating heat with flowing Vinyasa movements of Ashtanga based Sun Salutations linked to the breath. Slowing down and stoking the fire with our breath, we focus on maintaining alignment and structural integrity with longer holds exploring standing, balancing, and even basic inversions. Confidently build endurance and increase flexibility, by aligning to the best version of yourself, working to explore the potential inside before recharging with a deep, relaxing savasana and stepping back into life outside.