Steady (slow flow)
This class is taught by: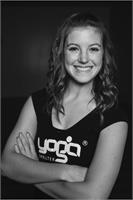 As a freshman at Grand Valley State University, I was on a mission to find new experiences and so, one evening, I stumbled into my very first yoga class. I found the poses comical, couldn't understand why "the breath "was such a big deal, and thought I would die if I had to stay in down-dog for one more second. Interestingly enough, GVSU and I did not make it past the first year of our relationship, but yoga and I did. This has become a recurring theme in my life, no matter what I go through or how many things I pick up and put down, yoga remains constant. In 2015, I decided to take Yoga Teacher Training so that I could learn and grow more in the practice that I had come to adore, but never in a million years was I planning on putting that training to use in a professional setting. I have learned that life often has other plans than we do, so sure enough as I continued along my 12 weeks of Teacher Training I felt more and more convinced that I should be sharing my love of yoga- the breath that now guides my life, the poses that strengthen and stretch my body, and the sacred mat space that allows me to center myself- with others. My yoga journey continues to grow and challenge me daily, and I am so thankful for the opportunity to now guide others along parts of their yoga journey. I also believe that the community we cultivate at Yoga Shelter is just as important as the physical practice of yoga, so please don't hesitate to reach out, whether it's just to say "hello", offer feedback, or express a concern, I would love to connect with you :)
Namaste
Our slow-burn hatha style is a fully guided foundation-building slow grounded flow.Most forms of yoga in the West can be classified as Hatha Yoga. Hatha simply refers to the practice of physical yoga postures, meaning your Ashtanga, vinyasa, Iyengar and Power Yoga classes are all Hatha Yoga. Focused on going deeper into the breath, you are encouraged to keep your eyes closed on this inward journey, enhancing the ability to pay attention to feelings, and relax into your body even in periods of discomfort. Working to build endurance, we explore the balance of effort and ease using slower, cumulatively deeper pose sequences with longer holds designed to engage and strengthen not only the major muscle groups but to functionally integrate the entire body. In this slower yet challenging practice, within the boundaries and framework of personal individual expression, "everybody" is presented the opportunity to articulate both breath and posture. A longer Savasana rests and restores body and the mind.
Upcoming classes: